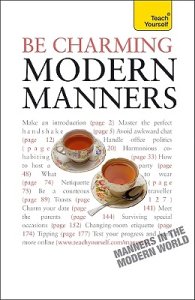 BE CHARMING: MODERN MANNERS by CYSTER, EDWARD;YOUNG, FRANCESCA



List Price: HK$ 142.00





¡@ISBN
9780071740197
¡@Subject
MIND, BODY & HEALTH
¡@Publisher
MCGRAW-HILL
¡@Publication
2010
¡@Edition
Paperback
¡@Version
Original
¡@Description
Today's society is fraught with peril for the unsuspecting--should you use your mobile on the train? Is it okay to strip off in the gym changing rooms? Kiss or shake? Since the wrong move can lose friends and destroy a professional image, Be Charming--Modern Manners is a clear path through every social and professional minefield.