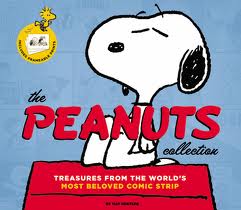 PEANUTS COLLECTION: TREASURES FROM THE WORLD'S MOST BELOVED COMIC STRIP by GERTLER, NAT;



List Price: HK$ 350.00





¡@ISBN
9780316086103
¡@Subject
CHILDREN
¡@Publisher
LITTLE, BROWN US
¡@Publication
2010
¡@Edition
¡@Version
Original
¡@Description
This fully authorized, one-of-a-kind illustrated bookcelebrates the 60th anniversary of the world's most beloved comic strip characters. A compendium of rare materials from the Charles M. Schulz Museum and family archives, The Peanuts Collection comes in a sturdy slipcase and features high-quality reproductions of original sketches, comics, and photographs from the world of Peanuts. Removable film cels, stickers, and booklets are included, as well as reproduction prints of Peanuts artwork ready for framing. Written by Peanuts aficionado Nat Gertler, with quotes from Schulz family members and a foreword by daughter Amy Schulz Johnson, the text offers insight into the making of the comic strip and its impact beyond the realms of newspapers and books to film, television, and popular culture. The Peanuts Collection is a must-own keepsake for anyone who loves Snoopy and the gang.