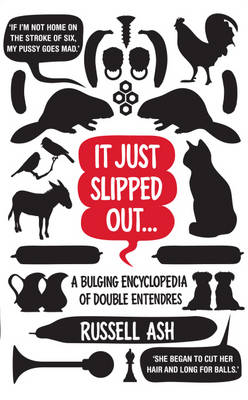 IT JUST SLIPPED OUT: A BULGING ENCYCLOPEDIA OF DOUBLE ENTENDRES by ASH, RUSSELL;



List Price: HK$ 150.00





¡@ISBN
9780755360864
¡@Subject
HUMOUR
¡@Publisher
HEADLINE
¡@Publication
2010
¡@Edition
Hardcover
¡@Version
Original
¡@Description
From the unwittingly filthy, to the gleefully subversive, double entendres have been making us laugh for centuries. In this hilarious survey, Russell Ash uncovers some of history's dirtiest double meanings. From the smut lurking between the polished lines of literature's most revered writers, to the public innuendo accidents that have tripped up even the most respected of politicians, IT JUST SLIPPED OUT has it all.