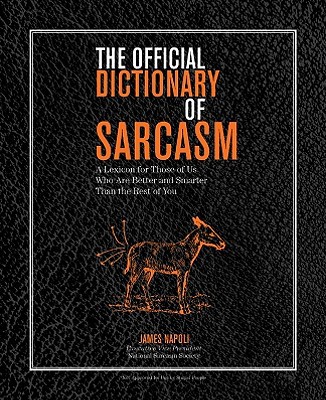 OFFICIAL DICTIONARY OF SARCASM: A LEXICON FOR THOSE OF US WHO ARE BETTER AND SMARTER THAN THE REST OF YOU by NAPOLI, JAMES

List Price:&nbsp TBD;
SPECIAL PRICE: HK$ 224.00



ˇ@ISBN
9781402769528
ˇ@Subject
HUMOUR
ˇ@Publisher
STERLING
ˇ@Publication
2010
ˇ@Edition
Paperback
ˇ@Version
Original
ˇ@Description
Why tolerate ignorance? James Napoli, the executive vice president of the National Sarcasm Society, has provided an A-Z guide to turn to whenever you need to set someone straight. From advertisements to e-mail, from materialism to remote controls, there's a witty answer for every situation. ˇ§You have been waiting patiently for a dictionary like this to come along. And now it is here,ˇ¨ recognizes Napoli.