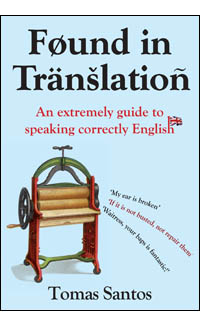 FOUND IN TRANSLATION: A EXTREMELY GUIDE TO SPEAKING CORRECTLY ENGLISH by SANTOS, TOMAS



List Price: HK$ 150.00





¡@ISBN
9781843174424
¡@Subject
HUMOUR
¡@Publisher
MICHAEL O'MARA
¡@Publication
2010
¡@Edition
Hardcover
¡@Version
Original
¡@Description
Found in Translation is an English-language guide with a difference. Compiled by Tomas Santos - a well-meaning but incompetent foreigner of indeterminate nationality - it contains a wealth of priceless miscommunications on a variety of handy themes. Found in Translation is an innovative, eccentric and charming 'guide' to the English language that is guaranteed to have any English speaker crying with laughter.